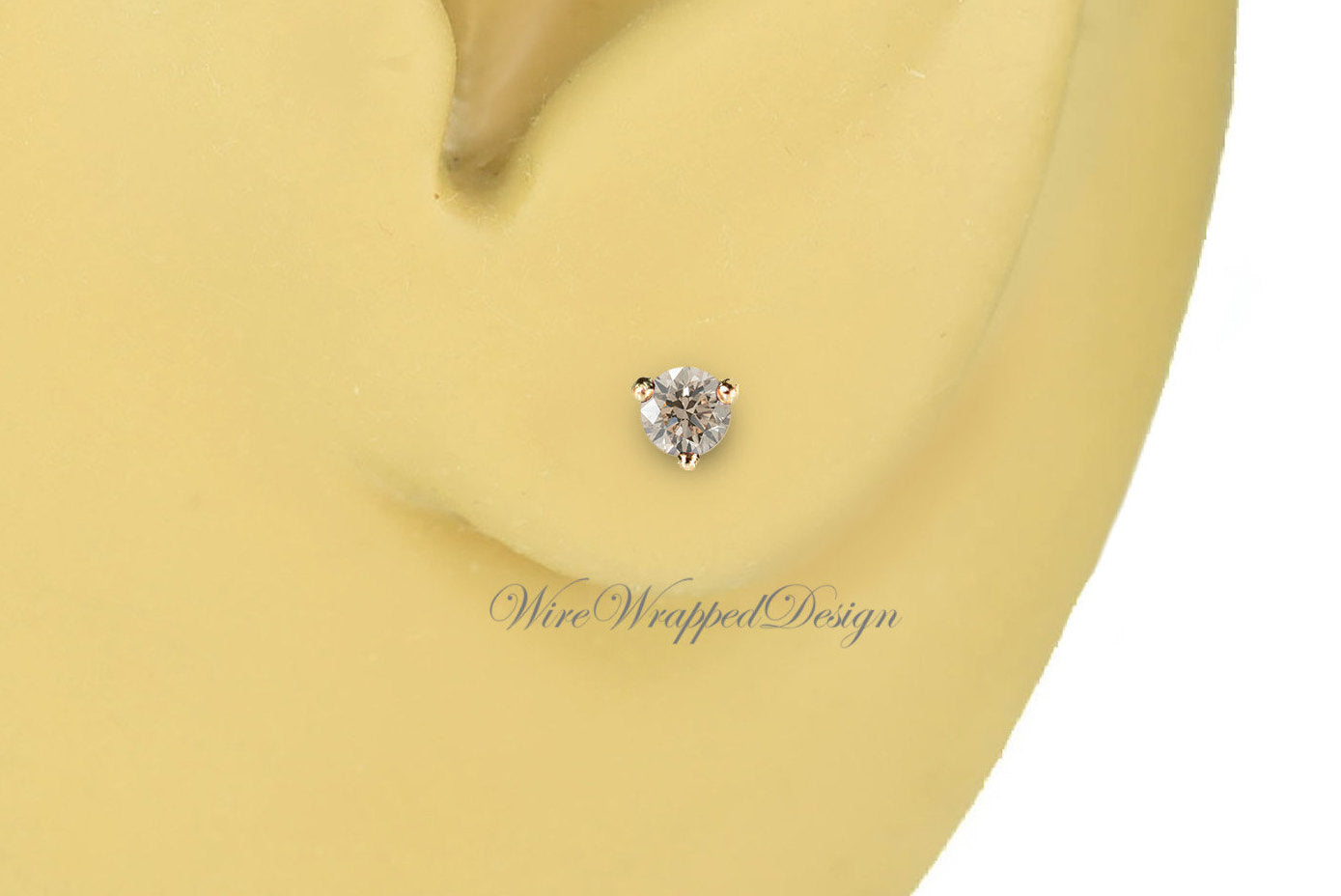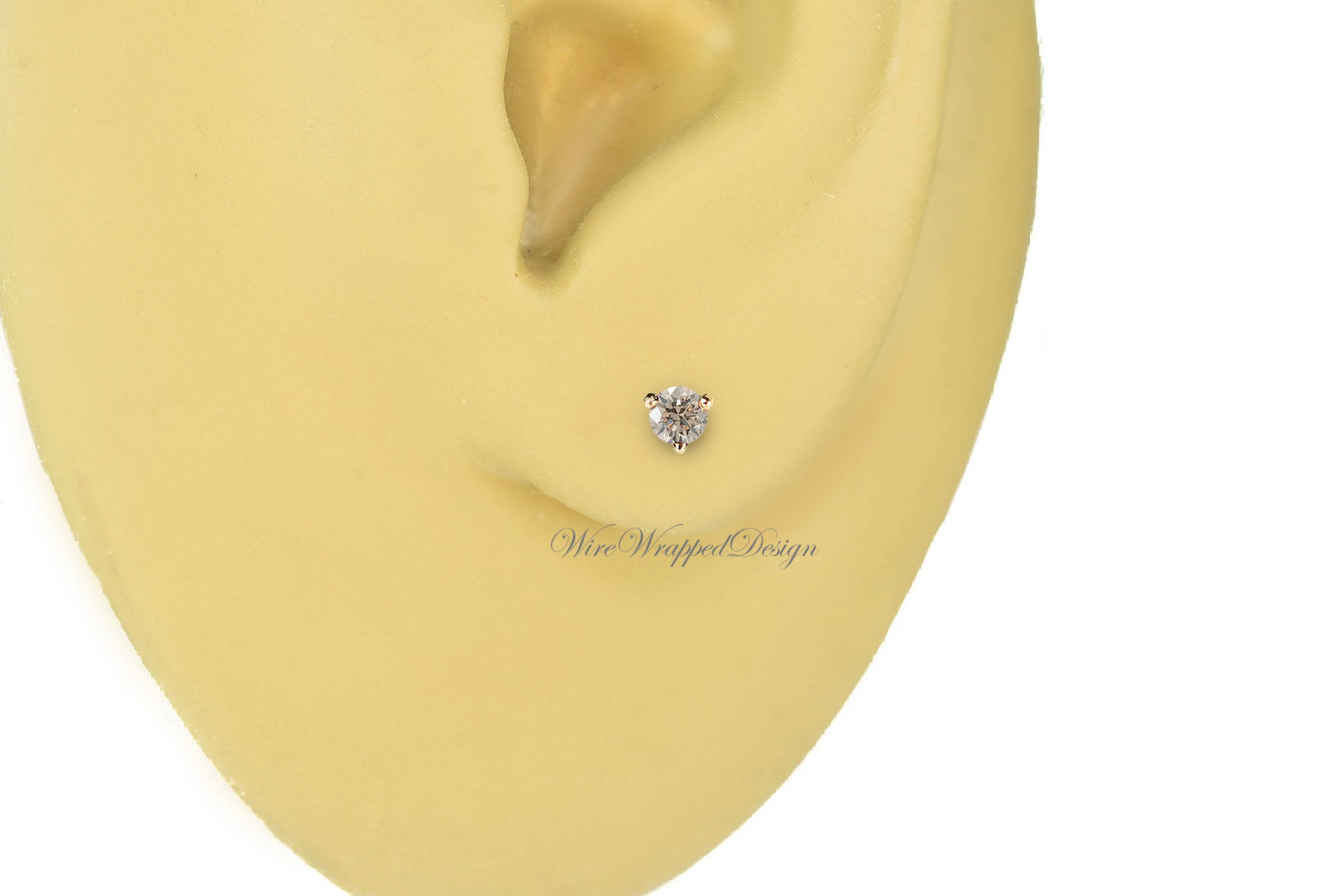 PAIR Genuine Top Light BROWN DIAMOND Earrings Studs 2.5mm 0.12tcw Martini 14k Solid Gold (Yellow, Rose, White) Platinum Silver Cartilage
Sale price

$ 470.00
Regular price

$ 0.00
(/)
Checkout our full selection of colors and sizes by searching the website for "diamond pair" (more available upon request).
Gorgeous Sparkly Genuine 2.5mm TOP LIGHT BROWN Diamond Stud Earrings Set in a 3 prong martini / cocktail setting in either 14k Solid Yellow Gold, 14k Solid White Gold, 14k Solid Rose Gold, Platinum or sterling silver setting and post. Also available in 18k White, Yellow or Rose gold upon request (please send message to request a quote).
Our beautiful shiny handmade TOP LIGHT BROWN Diamond stud earrings features beautiful sparkly 2.5mm 0.06 ct each (0.12 total carat weight of both) Genuine TOP LIGHT BROWN Diamonds that sparkle amazingly in the light. Our diamonds are so gorgeous because we use only quality diamonds. This listing features a pair of beautiful 2.5mm TOP LIGHT BROWN Diamonds. These TOP LIGHT BROWN diamond earrings feature diamonds that are 0.06 carats (0.12 total carat weight), approximately 2.5mm wide (diameter) each, and stick out approximately 2.3mm from the ear. We use 100% conflict free diamonds. The studs come with a pair of matching push-in precious metal earnut backings, as well as rubber hypoallergenic backings.
- If you'd like to purchase one stud by itself, instead of the pair, please message us!
- Looking for a larger size? Message us!
- Looking for a smaller size? Send us a message!
- Want to see more of our diamond selection? Search our store for "diamond pair."
These diamond earring studs are perfect for anyone who likes some intense sparkle on their ears to add dazzling shine to their style. These 0.06 ct (each)(0.12 tcw) SI Natural Untreated diamond earring studs can also be used in one's nose, tragus, cartilage, conch, ear, helix, lip, monroe, lobe, etc. We have other color and size diamonds available as well. Please let us know if you would like us to put up a listing for something else. Please note that these diamonds are 2.5mm which is a nice everyday size, however please do not use the photos as a guide for how large they are in real life because monitors do vary in size and everyone's ear is a different size...instead, look at a ruler and see how large 2.5mm is in real life, or hold that up to your piercing. This is for someone that would like just a little bling that is unique and stunning. The larger the diamond, the more you can see the sparkle, so if you'd like a something more obvious and very large, it is recommended you choose a diamond a little larger. Please contact us about this and we can help you decide on a size.
LOOKING FOR A DIFFERENT PRECIOUS METAL? Please let us know! We can custom make:
Gauge: 12, 14, 16, 18, 20, 22, 24, 26, 28, 30
- 14k Yellow Gold Filled
- 14k Rose Gold Filled
- 14k White Gold Filled (also available in 19 & 21 ga)
- Sterling Silver
- Fine Silver .999
- 14k,18k, 22k, 24k Solid Yellow Gold
- 14k Solid Rose Gold
- 14k Solid White Gold
- 14k Solid Palladium White Gold
- Platinum
Our items are American made and shipped from America. When you buy from us, you are receiving jewelry handcrafted by a professionally trained artist living in the United States, and NOT mass produced foreign goods. Feel free to message us with any questions and make sure you check out our other listings for more great jewelry!
Please keep in mind that monitors vary in size and color, so item color or size may vary slightly from picture. Diameter measurement is an approximation, and can vary a slight bit. Our items are made by hand, so we strive to make our listing accurate and realistic. These are just standard things that apply to most listings on Etsy, be we like to mention them.
PAIR Genuine Top Light BROWN DIAMOND Earrings Studs 2.5mm 0.12tcw Martini 14k Solid Gold (Yellow, Rose, White) Platinum Silver Cartilage
Sale price

$ 470.00
Regular price

$ 0.00
Choose options