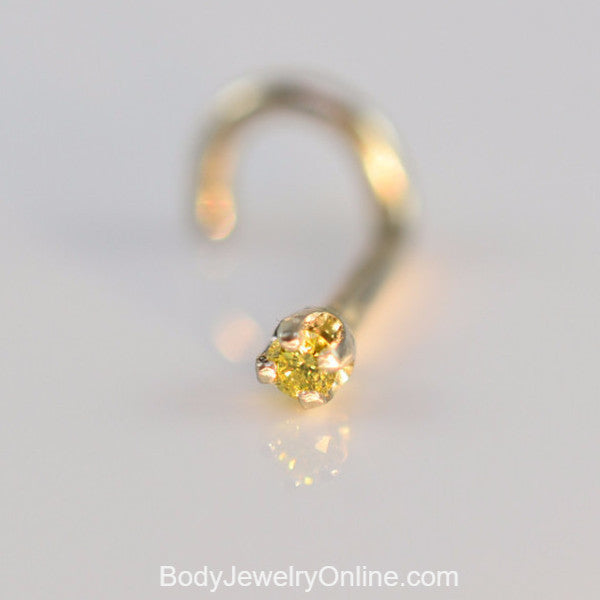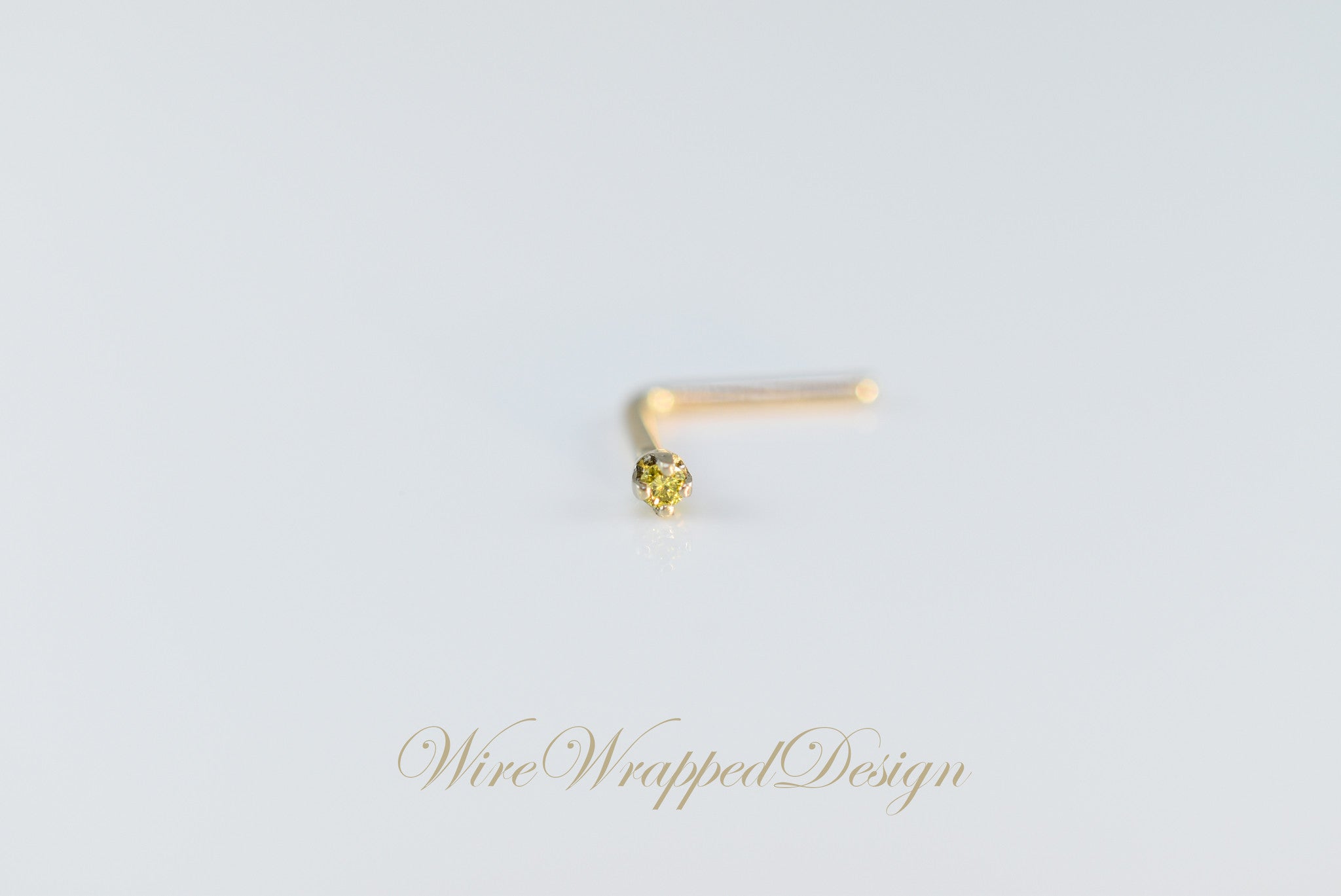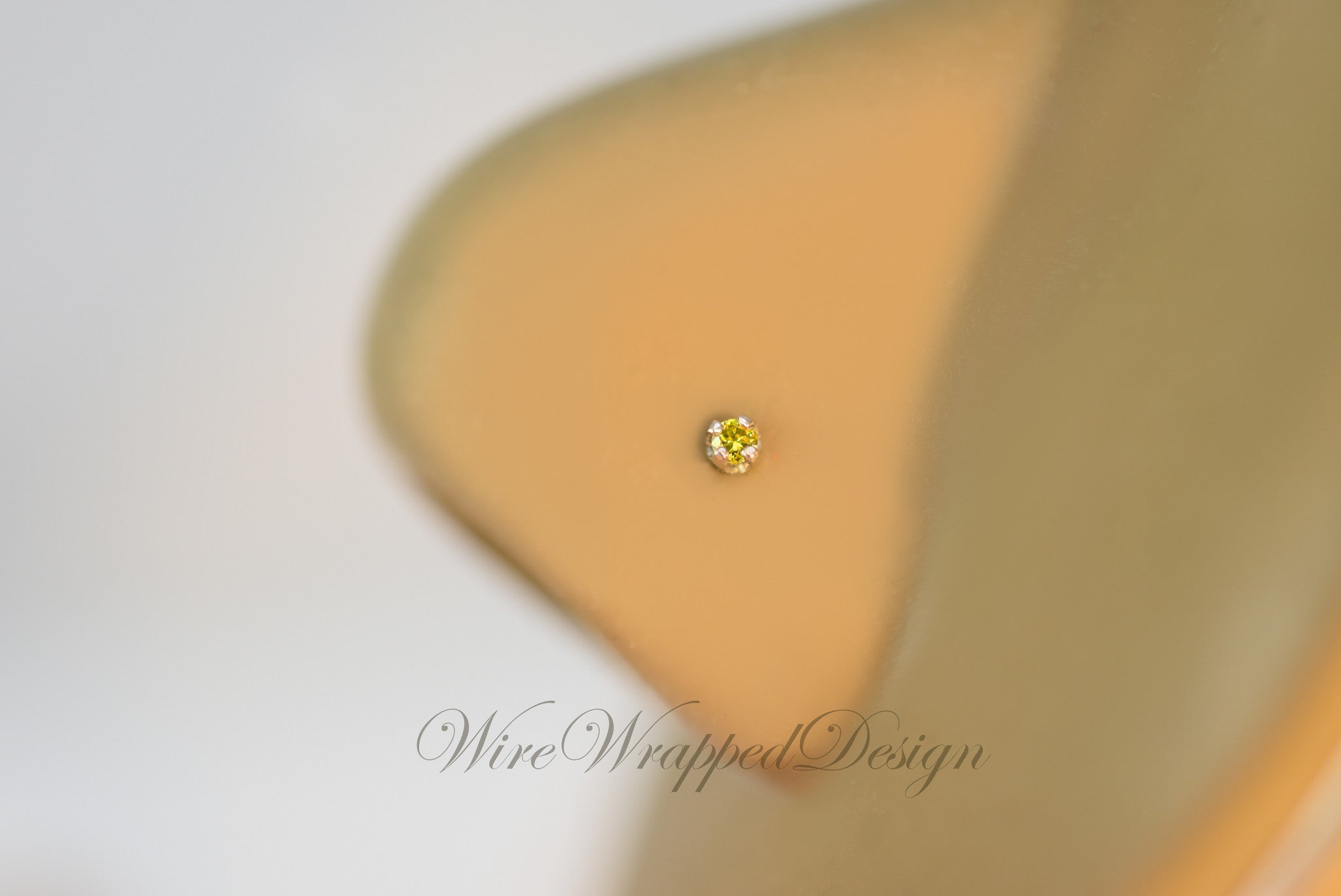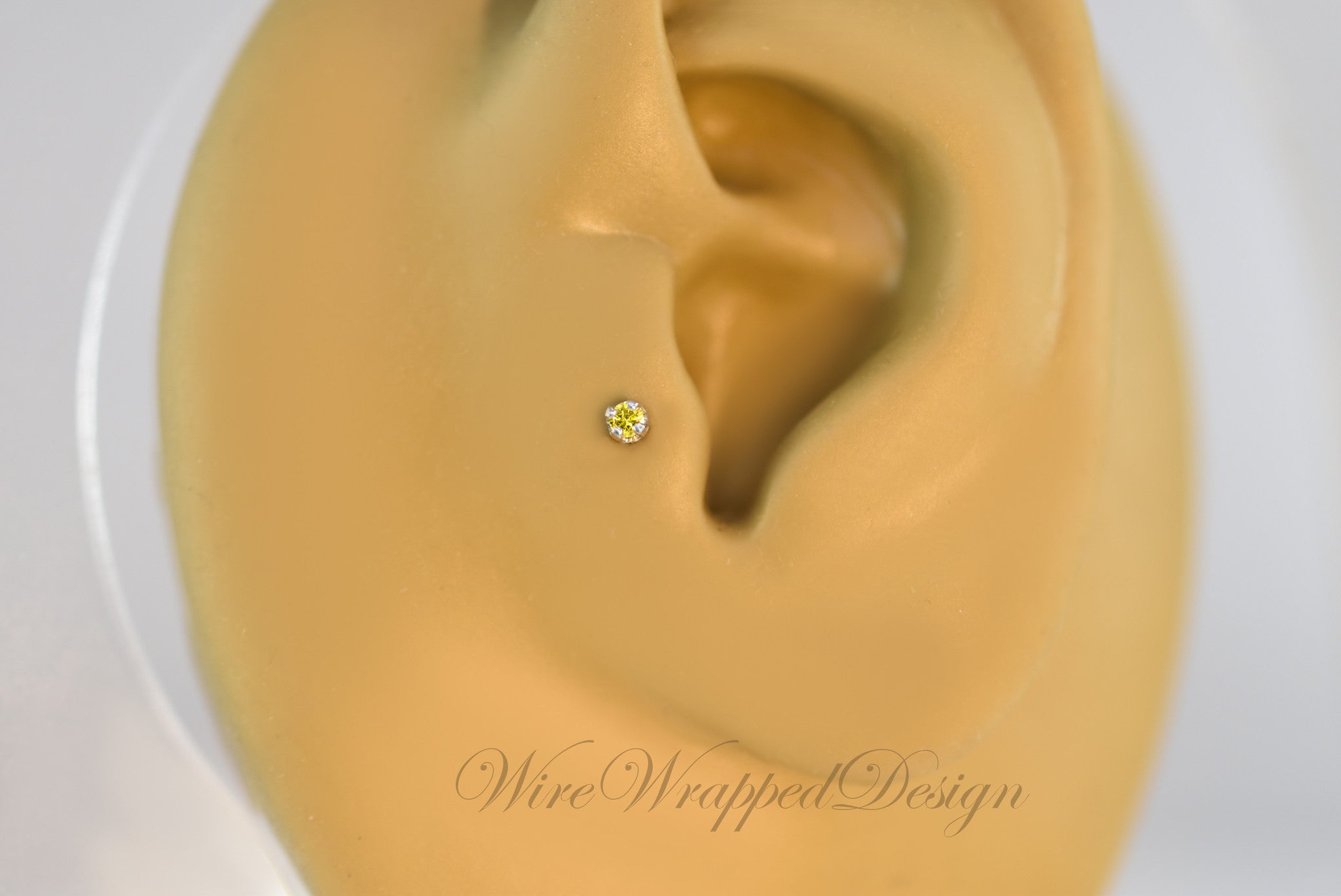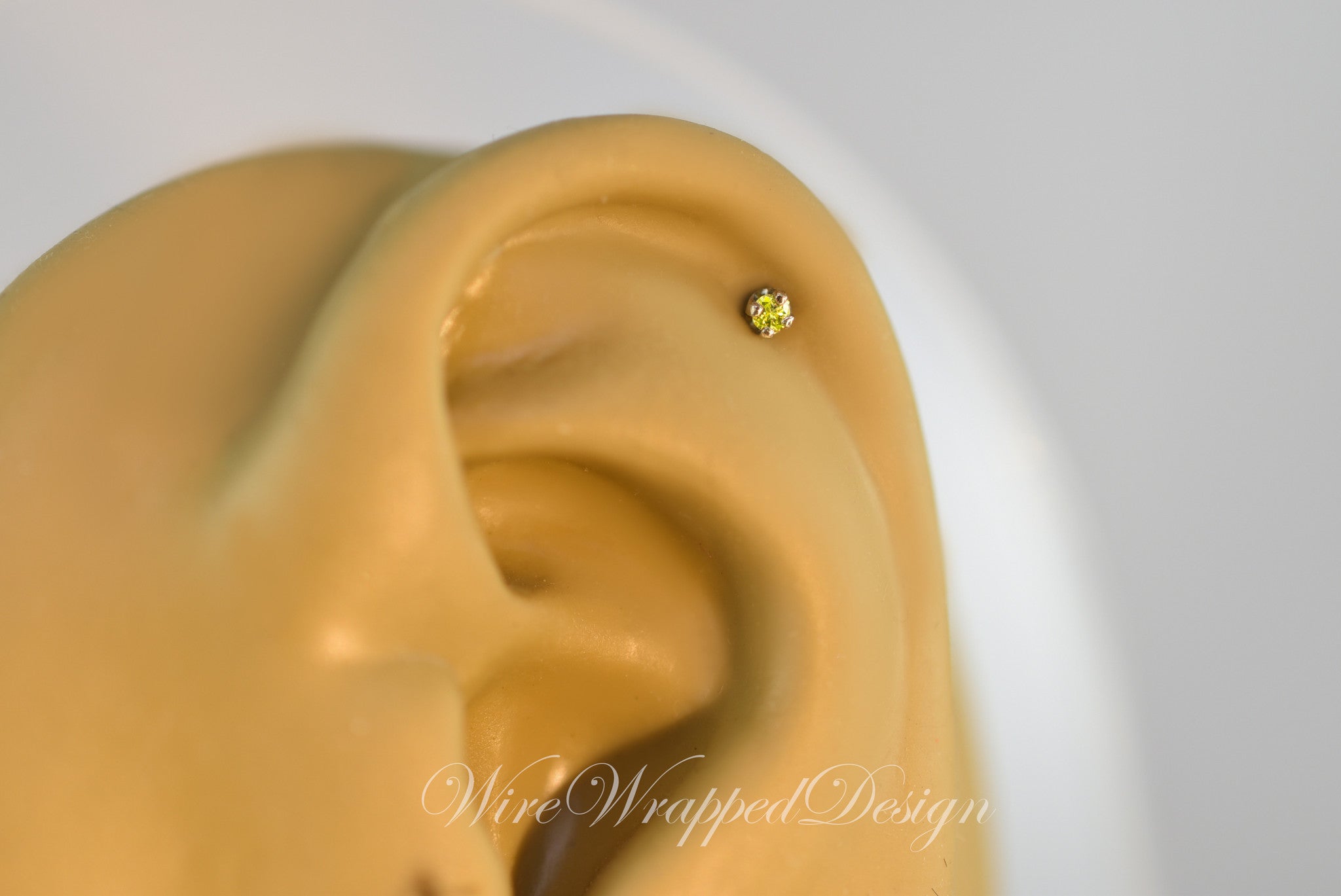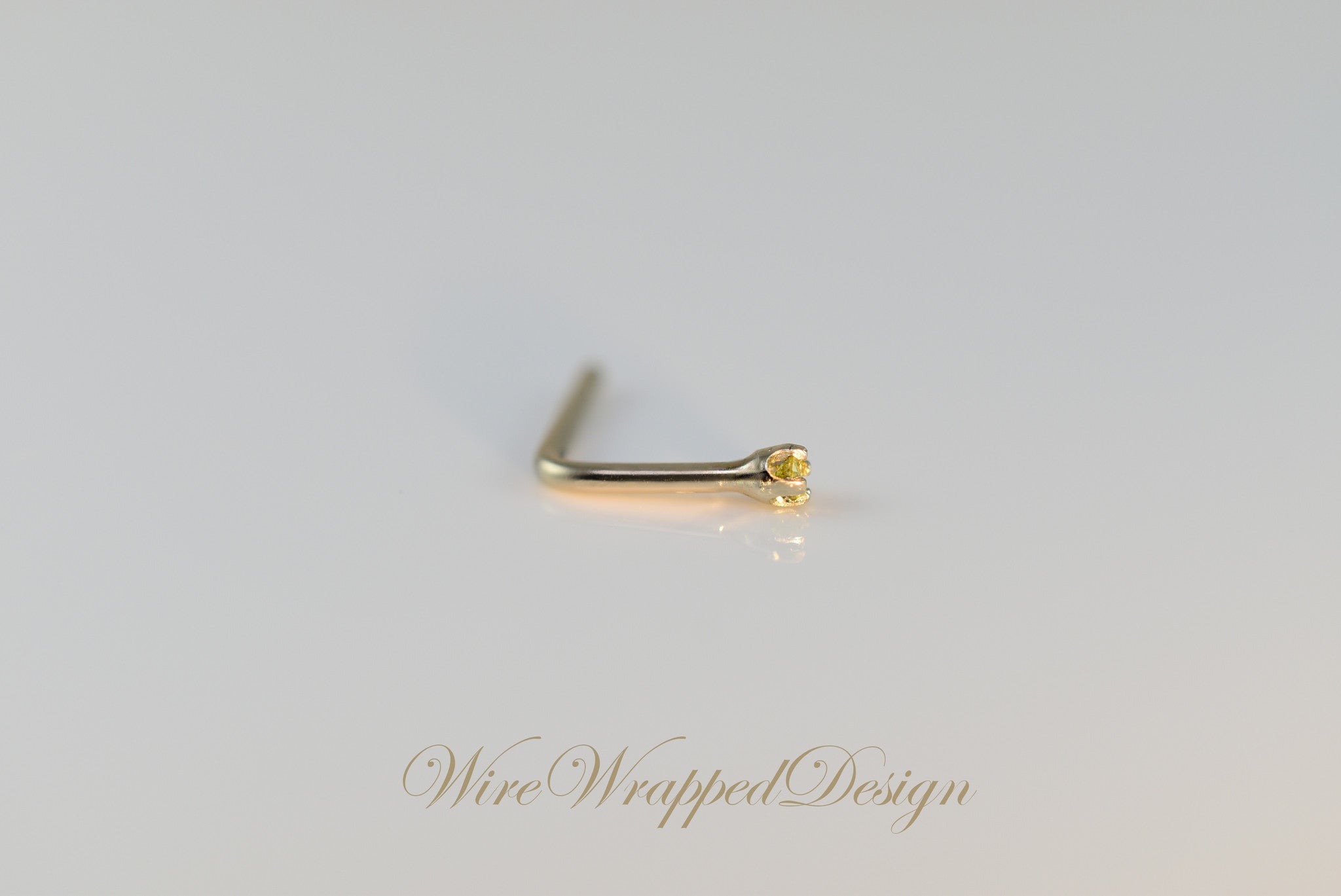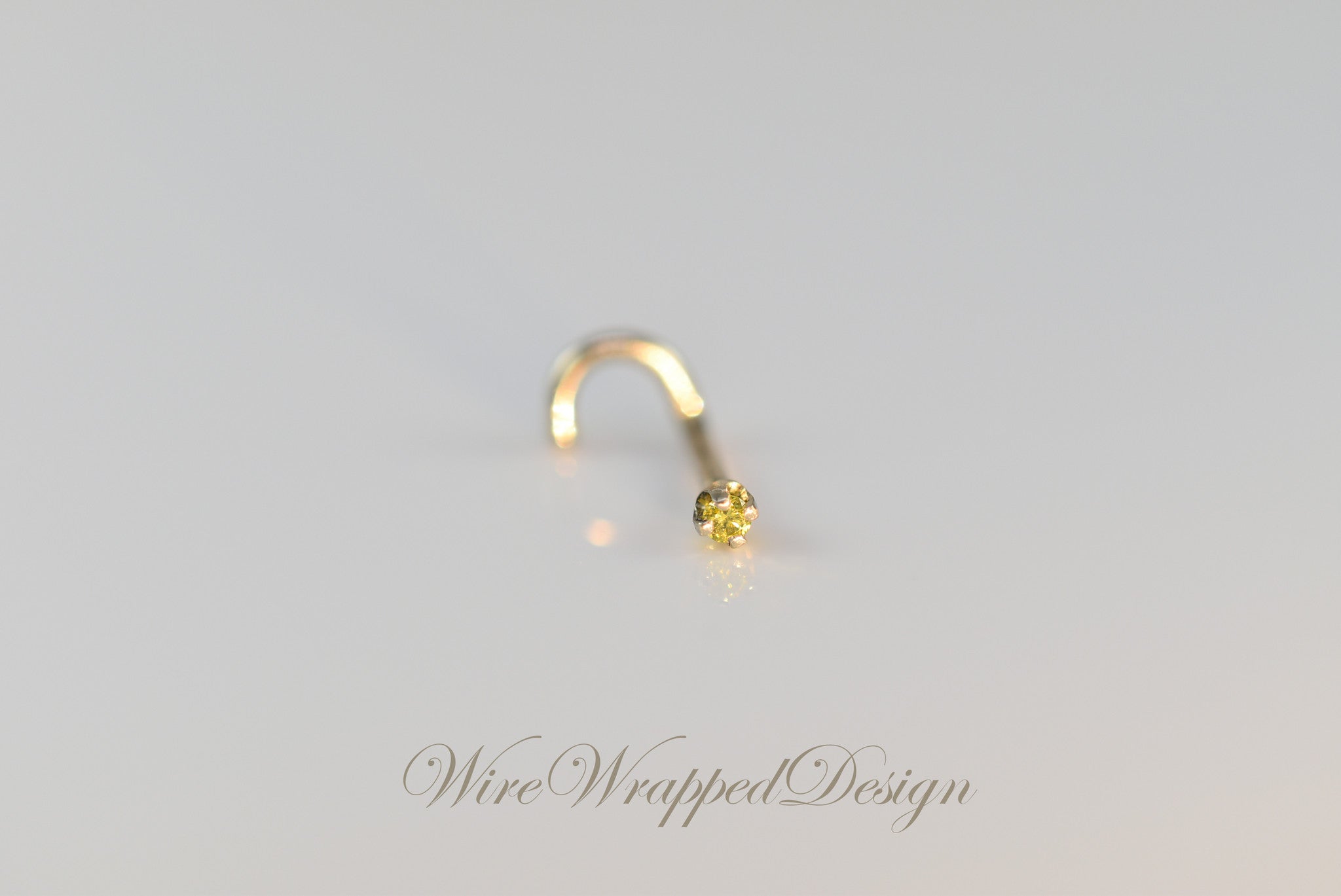 Genuine Canary Yellow DIAMOND Stud - 1.5mm 0.015 cts - Post 14k Gold (Yellow or White), Platinum, Silver
Sale price

$ 180.74
Regular price

$ 0.00
(/)
Canary Yellow Diamond Stud
Stud for Nose / Helix / Tragus / Anti-tragus / Cartilage / Lobe, etc.  
Gorgeous Sparkly Genuine Diamond Stud in 14k Solid Yellow Gold, 14k Solid White Gold, Platinum post (with white gold setting and backing) or sterling silver setting and post.

Our beautiful shiny handmade Diamond stud earring features a beautiful sparkly 1.5mm 0.015ct (0.03tcw) Genuine Canary Yellow Diamond that sparkles amazingly in the light. Our diamonds are so gorgeous because we use only quality diamonds. This listing features a single beautiful Canary Yellow Diamond stud which can be used in any gauge appropriate piercing, including the nose, helix, tragus, cartilage, lip, antitragus, monroe, etc. Many different types of gauges and backings are available including a fishtail, straight post with rubber hypoallergenic backing (or gold or silver matching backing for a small extra fee), L-post, screw shape, push in bioplast flat back, solid gold screw in flat back (for an extra fee), bone, etc. This diamond stud features a diamond that is 0.015 carats, approximately 1.5mm wide (diameter). We use 100% conflict free diamonds.

These diamond earring studs are perfect for anyone who likes some intense sparkle on their ears to add dazzling shine to their style. These 0.015 ct SI diamond nose stud can also be used in one's nose, tragus, cartilage, conch, ear, helix, lip, monroe, lobe, etc. If you'd like to purchase a pair, checkout this listing: https://www.wirewrappeddesign.com/collections/stud-jewelry/products/sale-genuine-diamond-earring-studs-3-2mm-vs-0-24tcw-each-0-12cts-g-i-post-w-14k-solid-yellow-or-white-gold-or-platinum-stem-lobe-cartilage. We have other color and size diamonds available as well. Please let us know if you would like us to put up a listing for something else. Please note that this diamond is 1.5mm which is very small. This is for someone that would like just a hint of bling. The larger the diamond, the more you can see the sparkle, so if you'd like a ton of sparkle and something more obvious, it is recommended you choose a diamond a little larger. Please contact us about this and we can help you decide on a size.

LOOKING FOR A DIFFERENT PRECIOUS METAL? Please let us know! We can custom make:

Gauge: 12, 14, 16, 18, 20, 22, 24, 26, 28, 30
- 14k Yellow Gold Filled
- 14k Rose Gold Filled
- 14k White Gold Filled (also available in 19 & 21 ga)
- Sterling Silver
- Fine Silver .999
- 14k,18k, 22k, 24k Solid Yellow Gold
- 14k Solid Rose Gold
- 14k Solid White Gold
- 14k Solid Palladium White Gold
- Platinum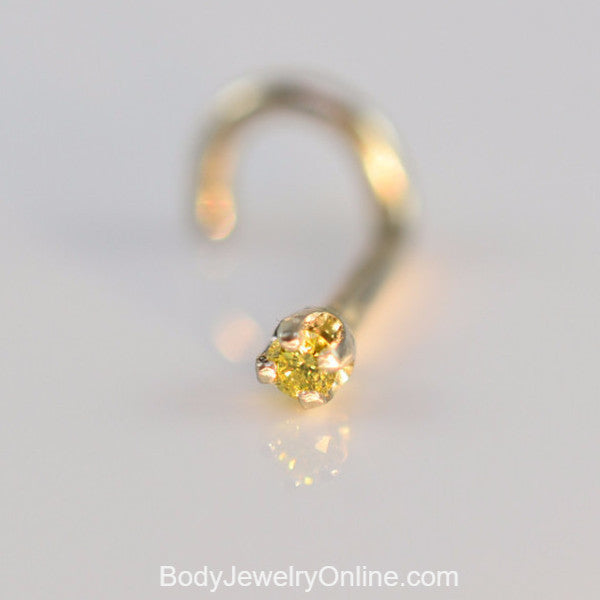 Genuine Canary Yellow DIAMOND Stud - 1.5mm 0.015 cts - Post 14k Gold (Yellow or White), Platinum, Silver
Sale price

$ 180.74
Regular price

$ 0.00
Choose options