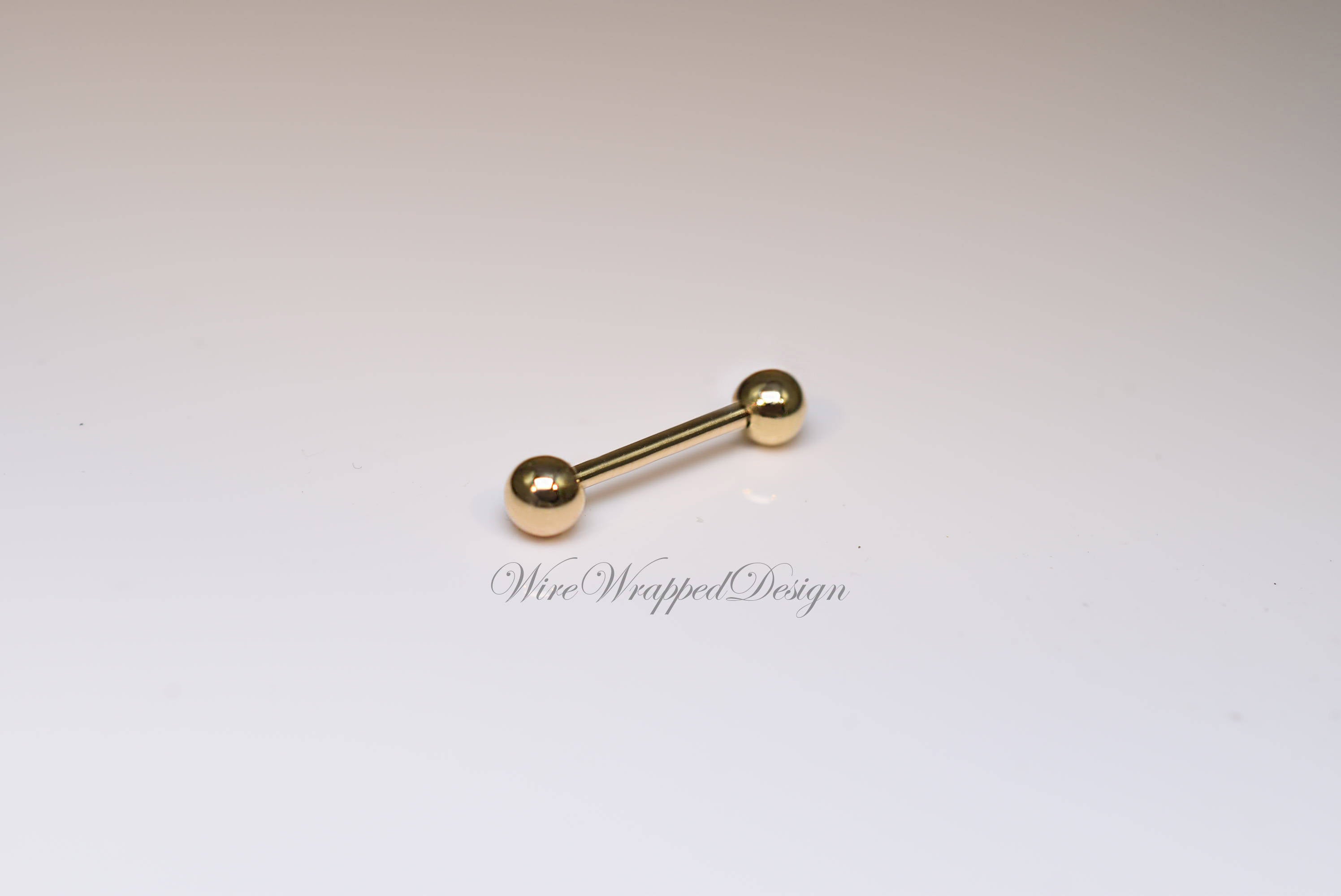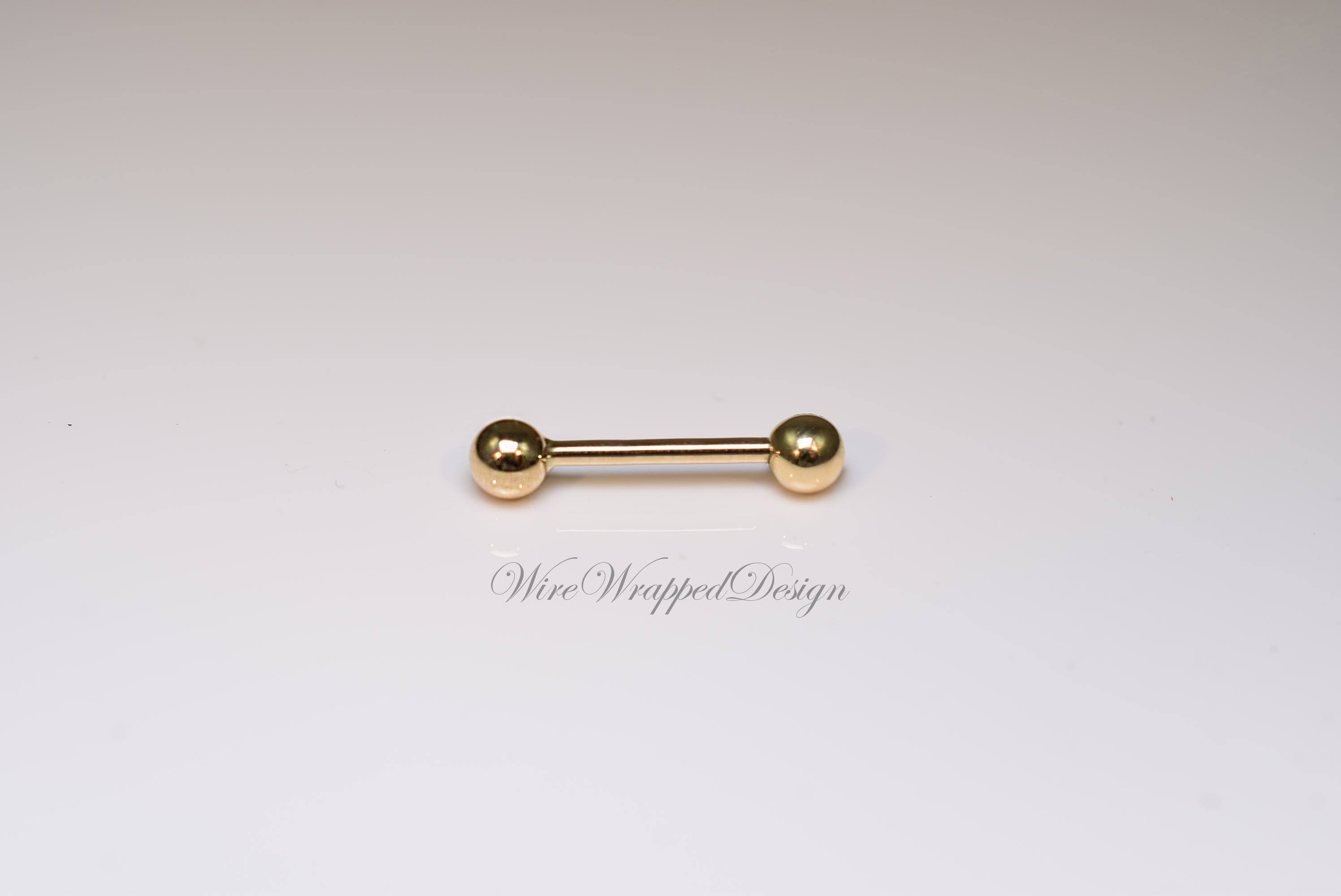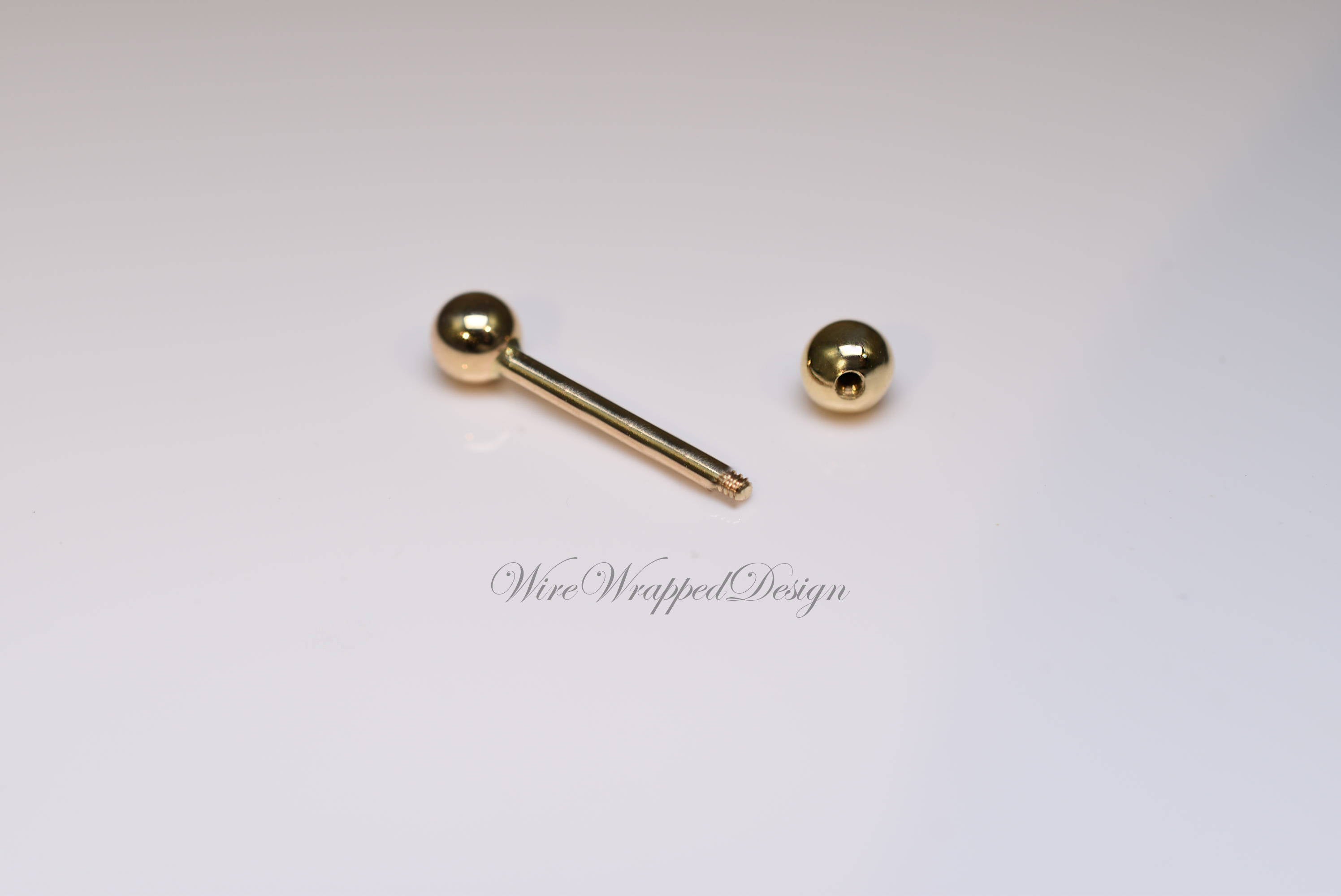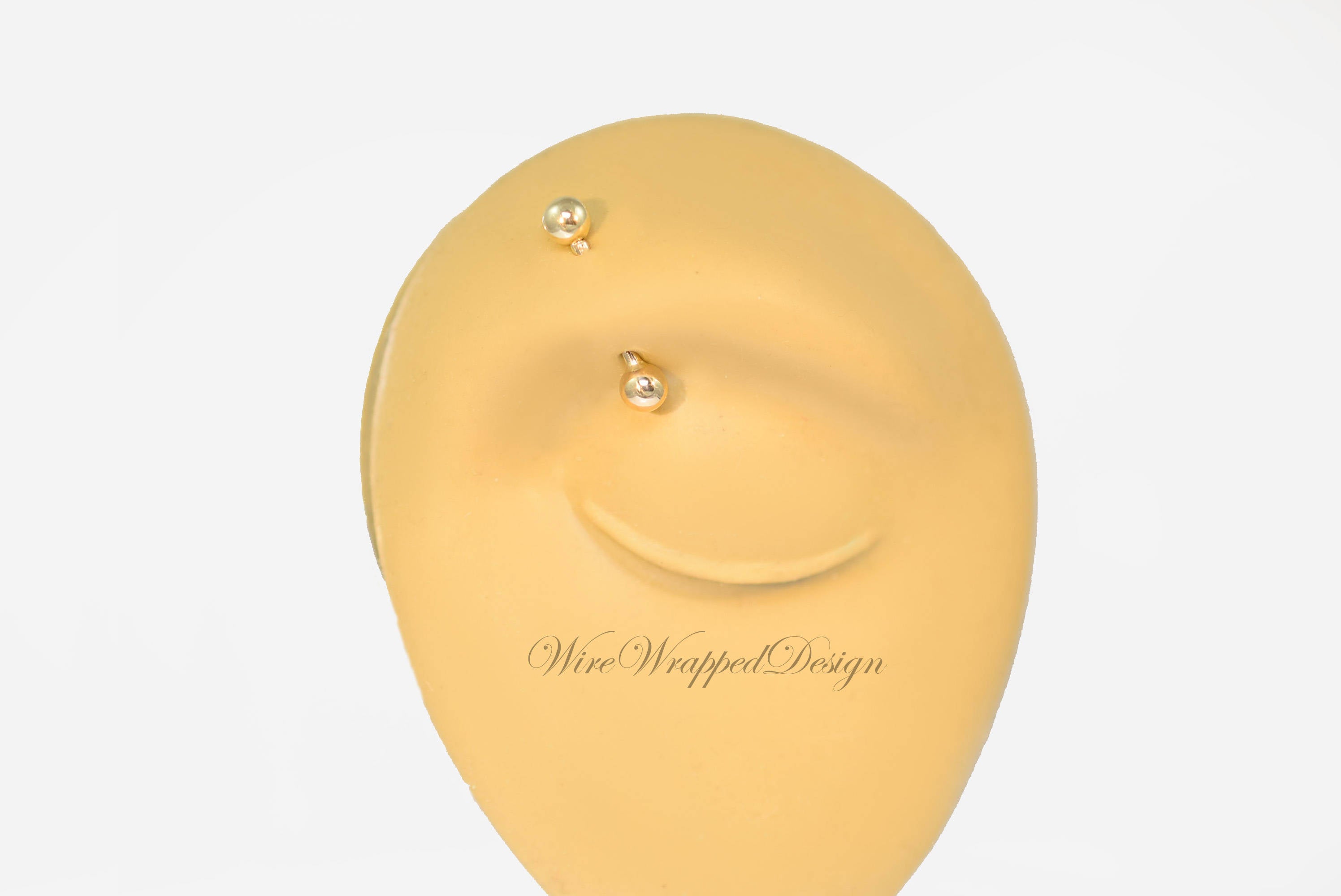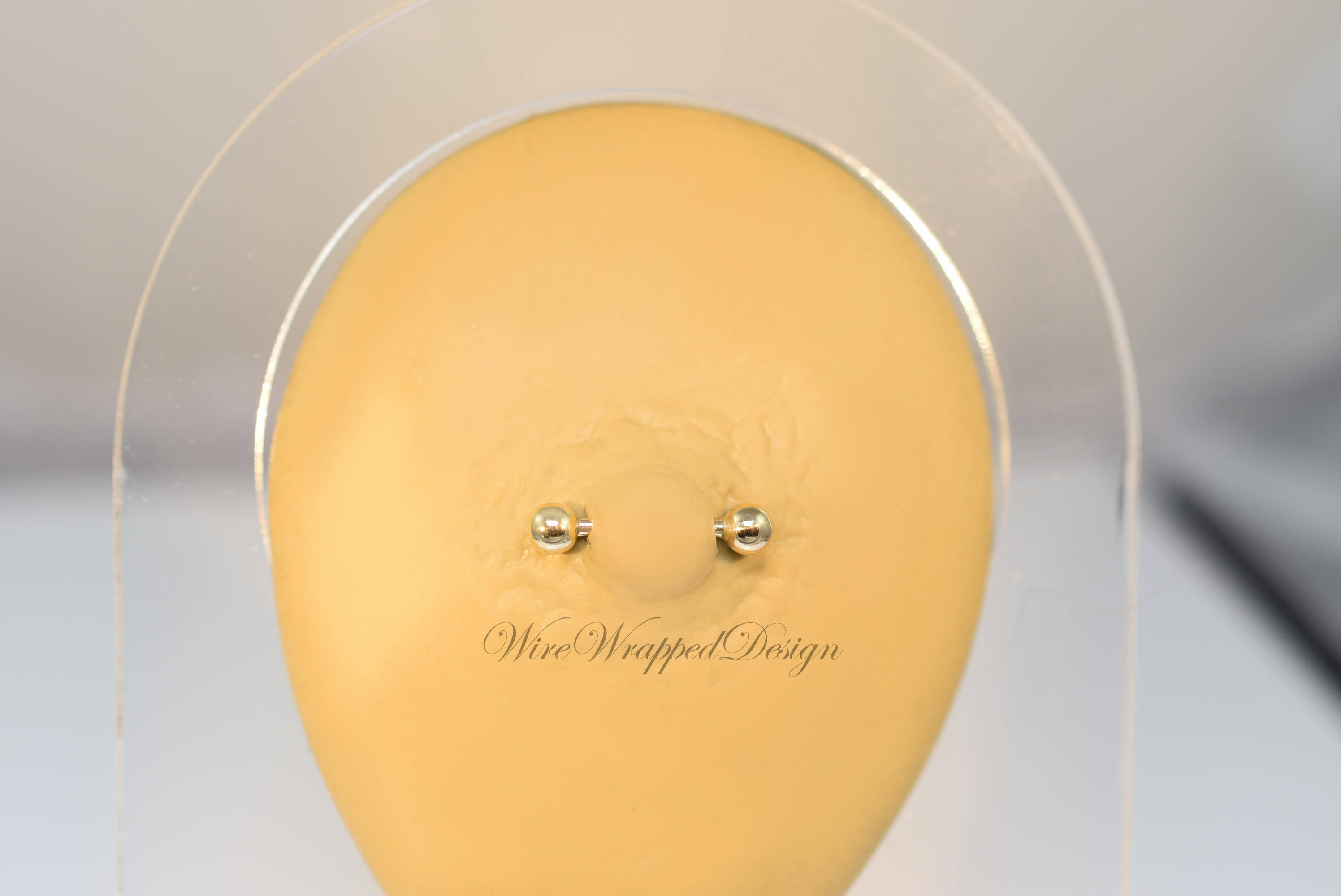 Barbell 14k Gold 14 Gauge Straight Barbell 14k Yellow, White Gold, Sterling Silver 14 gauge 14g 14k Gold Barbell Eyebrow, Nipple, Septum, Nose
Sale price

$ 353.54
Regular price

$ 0.00
(/)
Looking for a 16 gauge instead? www.etsy.com/listing/556161466
Our beautiful shiny handmade 14k gold Straight Barbell features either 3mm or 4mm balls. It is available in 14k Yellow Gold or 14k White Gold or a platinum Bar with white gold balls and works with a eyebrow, nipple, or septum, or any other piercing which is 14 gauge in size and uses a straight barbell. Not all of the piercings mentioned are 14 gauge (some a pierced with a smaller needle or have shrunk in size if smaller gauges have been worn for long periods of time) so if you are not sure, please send us a message before purchasing. 14 gauge is also available. Choose between 14k yellow solid gold or 14k white solid gold. This eyebrow / nipple straight barbell is comfortable and made from 14 gauge and can be ordered in different bar lengths (measurement of just the bar, between the balls) such as: 1/4", 5/16", 3/8", 7/16", 1/2", 1.5" so it perfectly fits your Eyebrow, Nipple or Septum Piercing or other gauge appropriate piercing. This eyebrow / nipple / septum straight barbell may be made with 2 screw in balls upon request, but usually comes with one screw in ball and one ball fixed for ease of use by default. Sterling silver may come with 2 screw in balls more commonly. 14 ga usually comes with 4mm balls by default. Our 16 gauge 14k solid yellow gold straight barbell with 4mm balls (1 fixed) with a 10mm length is shown in the photos above. 14k White gold balls are made by adding a heavy plating of 14k white gold on top of 14k yellow gold balls, to make the balls appear to be solid 14k white gold. 
NEED A DIFFERENT GAUGE / METAL / HOOP DIAMETER? Please let us know! We can custom make:
Gauge: 14, 16, 18, 20, 22, 24, 26, 28, 30
- 14k Yellow Gold Filled
- 14k Rose Gold Filled
- 14k White Gold Filled (also available in 19 & 21 ga)
- Sterling Silver
- Fine Silver .999
- 14k, 22k, 24k Solid Yellow Gold
- 14k Solid Rose Gold
- 14k Solid White Gold
- 14k Solid Palladium White Gold
- Platinum
- 22k Solid Yellow Gold
- 24k Solid Yellow Gold
Our items are American made and shipped from America. When you buy from us, you are receiving jewelry handcrafted by a professionally trained artist living in the United States, and NOT mass produced foreign goods. Feel free to message us with any questions and make sure you check out our other listings for more great jewelry!
Please keep in mind that monitors vary in size and color, so item color or size may vary slightly from picture. Diameter measurement is an approximation, and can vary a slight bit. Our items are made by hand, so we strive to make our listing accurate and realistic. These are just standard things that apply to most listings on Etsy, be we like to mention them. While most items have the same handling time as listed, some items may have longer handling time than listed due to the need to special order materials. Please inquire about handling time before purchasing if receiving your item quickly is very important to you.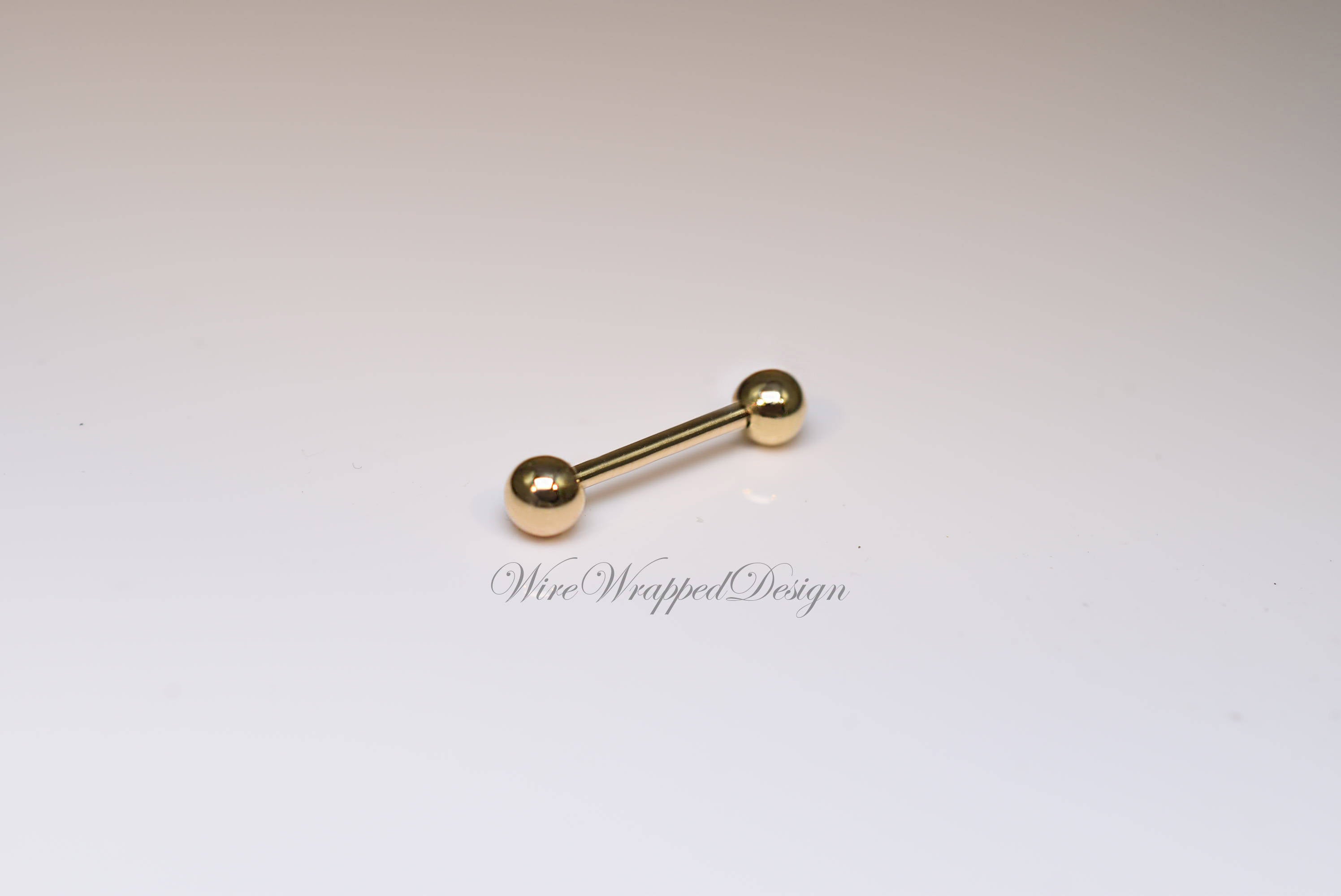 Barbell 14k Gold 14 Gauge Straight Barbell 14k Yellow, White Gold, Sterling Silver 14 gauge 14g 14k Gold Barbell Eyebrow, Nipple, Septum, Nose
Sale price

$ 353.54
Regular price

$ 0.00
Choose options